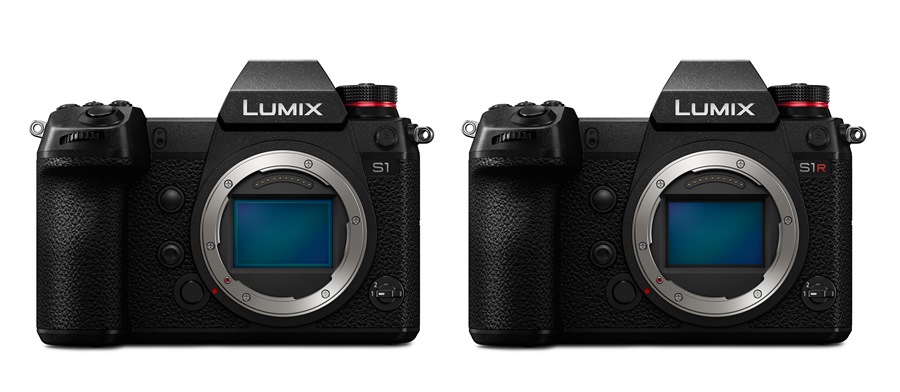 The Panasonic Full Frame LUMIX S1 contains fewer megapixels than its L-Mount counterpart, making it more suitable for filmmakers. The full-frame mirrorless camera is powered by a new Venus Engine image processor and contains a 24.2MP CMOS sensor.  The S1 performs extremely well in low light and boasts a wide dynamic range – its native ISO settings can reach 51,200.
Those who want more from the S1's 24.2MP sensor will benefit from the presence of High Resolution Mode, which is capable of producing images with a jaw-dropping 96 million pixels. These mammoth 12,000 x 8,000px RAW files are a combination of eight images, taken while the camera's in-body image stabilisation adjusts the sensor's position accordingly.
Image stabilisation and precision focusing
The S1's 5-axis in-body image stabilisation is called Body IS and we're told it can compensate for up to 5.5 stops, increasing the chance you'll land a crisp shot when shooting handheld. However, camera-shake compensation can be upped to 6 stops when the body is paired with the 2-axis optical image stabiliser found within LUMIX's S-series lenses. If that wasn't enough, you can keep tabs on how smoothly you're operating the camera via a handy visual aid called an IS Status Scope.
High-speed precision focusing is the product of contrast detection, super-fast processing and Panasonic's Depth from Defocus technology (all working in unison). Pair the S1's image processor and sensor with S-series lenses, and Panasonic has calculated that the autofocus system will react in a slick 0.08 seconds. If you're shooting in low light you're also covered as the autofocus can operate down to -6EV.
A variety of tracking mod cons serve to enhance the S1's focusing capabilities even further. The camera's Advanced Artificial Intelligence Technology is able to detect humans, dogs, cats and birds, helping it to anticipate movements, while those shooting portraits will benefit from face, eye and pupil detection too.
The S1 is able to shoot bursts at 6fps when using continuous focus and 9fps when using AF-S. Panasonic's 4K and 6K Photo Modes allow users to extract JPEG stills from MP4 files – the former produces sequences at 30 or 60fps, with stills of approximately 8MP and the latter produces sequences at 30fps, with stills of approximately 18MP. The S1's incredible buffer allows 90 RAW and a staggering 999+ JPEGs.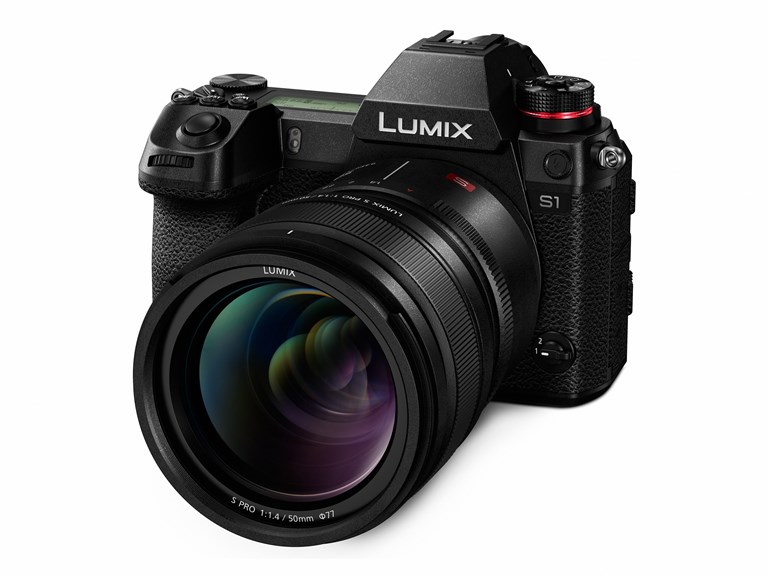 Viewfinder and form factor
The S1 boasts a 5.76-million-dot OLED viewfinder, that's currently the highest resolution electronic viewfinder in the world. Users can also enjoy refresh rates up to 120fps and smooth panning, thanks to an impressively tiny lag of just 0.005 seconds.
Panasonic's full-frame body has a durable feel while retaining the sleekness you'd expect from a modern mirrorless release. The camera features magnesium alloy die-cast front and rear panels, and is sealed at every joint, dial and button. The result is a robust body that's dust and splash resistant, and able to operate in conditions as low as -10°c. In addition, the mechanical shutter is built to withstand 400,000 actuations.
The S1 features a tilting 3.2-inch touchscreen that has a resolution of 2.1 million dots and is easy to operate in poor lighting thanks to Night Mode, Live View Boost and illuminated buttons. As we've come to expect with other high-end LUMIX cameras, the S1 features a backlit status LCD screen (the largest in its class), which will no doubt please anyone used to shooting with high-end DSLRs.
Joysticks are definitely on trend and Panasonic hasn't missed a trick, the S1 features an eight-directional joystick. Anyone who finds themselves changing settings by accident in the heat of the moment will make good use of a lock lever, which can be customised to lock certain functions.
The LUMIX S1 features dual memory slots, one for UHS-II SD cards and one XQD card slot, and is set to provide CFexpress support in the near future.
Internal 10-bit 4K video
The LUMIX S1 features some very impressive video specs. In fact, it's the first full-frame mirrorless camera able to record 10-bit 4K internally. However, this will require the purchase of an additional software key. Fresh from the box, the S1 is capable of 4K UHD at up to 60fps.
Additional features
The S1 features a variety of in-camera photo styles including the new Hybrid Log Gamma [HLG] mode. This is particularly suitable for anyone who owns a HLG-compliant device as images can be saved as HSP files and displayed in 8K resolution. Connect the S1 to a PC via USB and LUMIX's tethering software enables a variety of functions: Live view can be streamed and images can be transferred to the PC, and users can control the camera via the PC too.
The S1 is compatible with Bluetooth 4.2 and can maintain a constant connection with smart devices. Cleverly, Bluetooth also enables users to share settings between multiple LUMIX S1 bodies. Finally, Panasonic's new smartphone app for iOS and Android devices, LUMIX Sync, enables you to control the S1 with your smart device and transfer images from the camera to your smart device too.
Part of what makes Panasonic's L-Mount debut so enticing is that between the S1 and S1R, there's something for everyone. So, while the S1R doesn't quite pack the same filmmaking clout as the S1 (no optional 4K 10-bit internal), it features an extremely enticing 47.3MP sensor, making it the preferred choice for those who focus primarily on photography.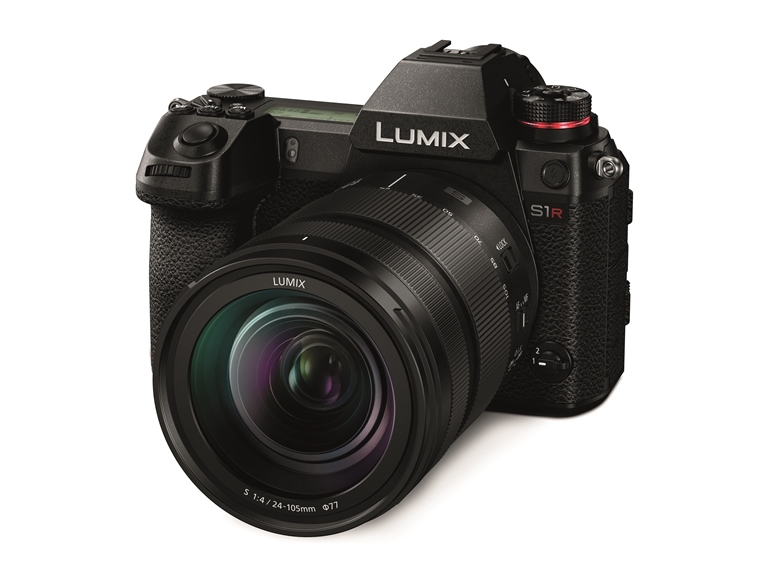 Image quality
That 47.3MP CMOS sensor is paired with Panasonic's Venus Engine image processor, and with no low-pass filter you can expect crisper and more accurate textures. The S1R's sensor boasts a new design – aspherical micro lenses over each pixel improve its light-gathering abilities. As such, you can expect low noise at high ISO settings (the S1R has an ISO range of up to 25,600).
For those demanding even higher resolutions, the S1R's High Resolution Mode is capable of producing images with a whopping 187 million pixels, as giant 16,736 x 11,168px RAW files. Like the S1, such images are a combination of eight exposures, each adjusted via the camera's Body IS system. As you'd expect from a camera with a higher megapixel sensor, the S1R's buffer is smaller than the S1's, 50 JPEGs and 40 RAWs.
Video capabilities
Dedicated filmmakers or those who shoot film often will likely prefer the S1's smaller resolution and ability to shoot internal 10-bit 4K video. However, that's not to say you won't find plenty of video oomph within the S1R. You can still record 8-bit internal 4K video at up to 60fps. Slow-motion footage can be achieved in both 4K and full HD, with the former allowing for 2x slow motion at 60fps and the latter an impressive 6x slow motion at up to 180fps.
Footage can be recorded in camera on SD and XQD cards or externally through a HDMI Type-A port. The camera features a 3.5mm mic socket and 3.5mm headphone port, while the hotshoe supports Panasonic's DMW-XLR1 microphone adapter.
That's really all of the discernible differences between the LUMIX S1R and S1. The former features the same 5.5 stops of in-body image stabilisation, boosted to 6 stops when paired with an S-series lens' 2-axis OIS. It still shoots 9fps bursts in AF-S and 6fps bursts in AF-C. And, you're still treated to a dual card slot that will accept a UHS-II SD card and an XQD card, with CFexpress support on the way.
Panasonic LUMIX S1 and S1R at a glance
Whether or not you plump for the LUMIX S1 or LUMIX S1R will depend on your habits as a content creator. The S1 is perhaps the more versatile choice and will also appeal to those who favour video, while the S1R's big 47.3MP sensor and advanced High Resolution Mode will be favoured by landscape photographers or those working in a studio.
| | | |
| --- | --- | --- |
| | Panasonic LUMIX S1 | Panasonic LUMIX S1R |
| Megapixels | 24.2MP | 47.3MP |
| Image stabilisation | 5.5 Stops (6 stops with Dual IS) | 5.5 Stops (6 stops with Dual IS) |
| FPS | AF-S 9fps, AF-C 6fps (14-bit RAWs) | AF-S 9fps, AF-C 6fps (14-bit RAWs) |
| Buffer for burst shooting | JPEG 999+, RAW 90 | JPEG 50, RAW 40 |
| Video (HDMI output) | 4K 60fps 4:4:2 10-bit (Optional) | 4K 60fps 4:2:0 8-bit |
| Slow-motion video | FHD 180fps (NTSC) / 150fps (PAL) | FHD 180fps (NTSC) / 150fps (PAL) |
| High Resolution Mode | 96MP | 187MP |